Biography
Anthony's passion for Natural History led him to read Zoology at Cambridge University, where he specialised in the study evolution and behaviour, including the work of his great hero, Charles Darwin. Alongside his scientific studies he established a career an artist, having begun exhibiting and selling his bronze wildlife sculptures in London at the age of 18. After graduating in 2005 he set up his own sculpting studio and has since been working on major commissions including creating statues for Cambridge University and the Natural History Museum of London as well as a new two-pound coin for the United Kingdom.

Anthony has several other interests in addition to his artistic work, including photography and book publishing. In 2009-10 he spend eight months sailing around the world, co-presenting a television series about Charles Darwin and the Voyage of the Beagle, and he now spends part of each year lecturing and guiding in the Arctic and Antarctic, where he also gains inspiration for many of his sculptures.
'…I was greatly inspired by the works of late 19th century sculptors such as Rodin, Bugatti and Pompon. I spent countless hours studying their work and learning from their techniques.'
Anthony draws the inspiration for his wildlife sculptures from extensive observations of animals in the wild. He has travelled all over the world, studying and photographing animals in their natural environment.
He has been the Artist in Residence in both the Falkland Islands and South Georgia, and has sailed around the world working as a television presenter for a documentary series about the Voyage of HMS Beagle. In 2013, Anthony was commissioned to sculpt a seven-foot tall statue of the great naturalist, Alfred Russel Wallace, for the Natural History Museum of London. This was the first new statue commissioned for the Museum in more than 80 years, and now stands in the gallery overlooking the great hall of the Museum.
'It has been an enormous pleasure for me to sculpt this statue [of Alfred Russel Wallace]. I have admired the man and his work for many years, and to help commemorate his life for such an august institution is truly an honour.'
He is now travelling extensively in the Arctic and Antarctic, gathering reference material and inspiration for an expanding series of polar sculptures.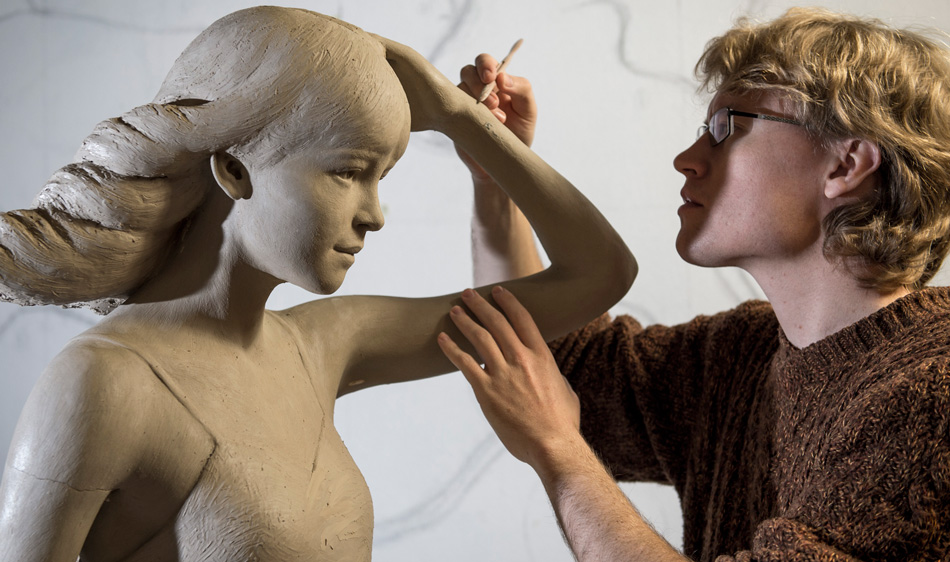 Copyright © 2017 Anthony Smith