ALFRED RUSSEL WALLACE BUST
---
All Sculptures
|
Commissions
|
Human Figure Sculptures
This portrait bust of the great 19th-century biologist, Alfred Russel Wallace, was commissioned by the National Botanical Garden of Wales and is on permanent display in the commemorative 'Wallace Garden'.

Dimensions: Life-size +10%
Bronze: Edition of 8
Price: €7000 inc. VAT
All sculptures can be delivered worldwide.
Please note, there is no VAT due on exports outside the EU.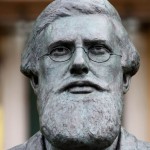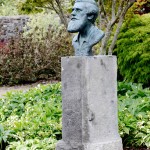 (Images courtesy of the National Botanic Garden of Wales)
Copyright © 2022 Anthony Smith