Through my wildlife sculptures I aim to capture that wonderful feeling we experience when we are surrounded by nature, quietly observing wild animals going about their daily lives, unfettered by human interference.

– Anthony Smith
About the Artist
Anthony Smith learned to sculpt whist at school in England and by the age of eighteen he was casting bronze wildlife sculptures and exhibiting in London's famous Mayfair art district. His academic interests have always been Natural History and the works of Charles Darwin, which inspired him to study Zoology at Cambridge University. In his free time from studying he developed his skills as a sculptor, casting and exhibiting limited edition bronze sculptures, and by the time he graduated in 2005 he was in a position to set up his own sculpting studio. Since then his reputation has continued to grow and he now has a large body of work in both public and private collections around the world.
Observing animals in their natural environment provides the key inspiration for all of Anthony's wildlife sculptures and he travels widely to gain the necessary knowledge and experience that informs his work. By combining careful studies of anatomy and his scientific training, he aims to capture the essential character and form of each subject by meticulously sculpting, moulding and casting each sculpture in bronze.
---

Preparing the bronze 'Gentoo Chick' for patination / Photographing King Penguins in South Georgia.

---
Public Commissions
Anthony has been honoured with various high profile commissions and appointments, including life-sized statues for the Natural History Museum of London and for Cambridge University, as well as a new two-pound coin for the United Kingdom. He has also been awarded Artist Residencies in both the Falkland Islands and South Georgia, where he has spent several months living alongside the penguins, albatrosses and seals that continue to inspire his work.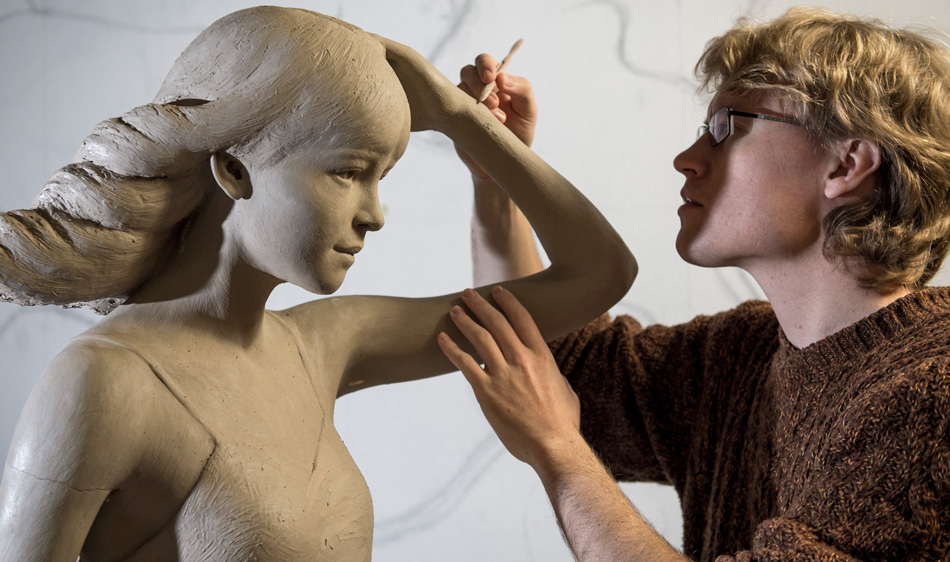 Sculpting 'Girl with Flowing Dress' – a life-sized statue commission for a client in Spain.

---
A Life of Travel
Anthony gains the inspiration for his work through firsthand experiences of the world, its people and its wildlife – travel is therefore a crucial part of his work. He has visited 89 countries and territories around the world, from the geographic North Pole to below the Antarctic circle. His greatest adventure so far took part in 2009-10 when he undertook an eight-month circumnavigation voyage aboard the three-masted sailing ship, Stad Amsterdam, for a television documentary retracing Darwin's Voyage of the Beagle. As a television presenter for this series, Anthony visited many remarkable places and witnessed a great diversity of species. He continues to spend several months each year travelling to remote places and observing and photographing wild animals, gathering the experiences, inspiration, and reference materials that he uses to create his artworks back in his studio in the Netherlands.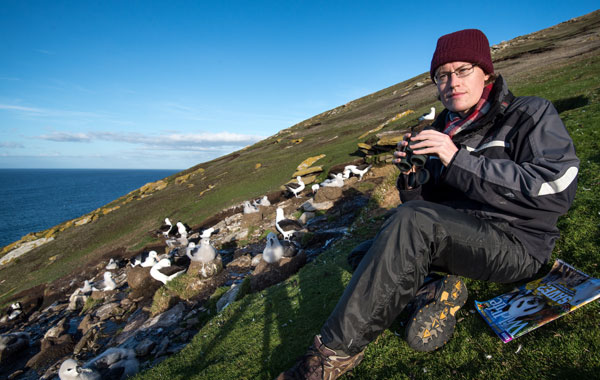 Photographing Black-browed Albatrosses in the Falkland Islands on assignment for BBC Wildlife Magazine.

Copyright © 2021 Anthony Smith