ALFRED RUSSEL WALLACE BUST
---
All Sculptures
|
Human Figure Sculptures
This portrait bust of the great 19th-century biologist, Alfred Russel Wallace, was commissioned by the National Botanical Garden of Wales and is on permanent display in the commemorative 'Wallace Garden'.

Dimensions: Life-size +10%
Bronze: Edition of 8
Price: €6750 inc. VAT
Sculptures can be shipped world wide at cost. Please note, there is no VAT due on exports outside the EU.
Click here to enquire about availability or to place an order.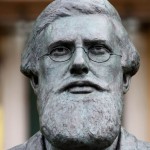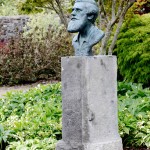 (Images courtesy of the National Botanic Garden of Wales)
---
"Alfred Russel Wallace was one of the greatest scientists of the 20th century. I hope that this bust helps to introduce new people to his wide-reaching body of work." – AS
Copyright © 2019 Anthony Smith